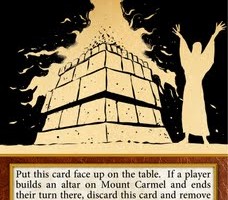 Kings of Israel was just fully funded on Kickstarter, take advantage of the deal  here: Click Here
Kings of Israel is a board game taking place in Israel (the Northern Kingdom) during the reign of its kings up until Israel's destruction by Assyria. Players are on a team and each person represents a line of prophets that are trying to remove evil and idols from Israel, while building altars to help guide Israel in the upcoming difficult years. If the players are able to build enough altars before the game ends, they win. If the group runs out of sin cubes or idols, or if the timeline token reaches Assyria destroying Israel, the prophets lose.
The game board is a map of Israel with many important locations and nations shown.  Between these locations are roads and in addition the cities on the sea are connected by sailing routes.  These roads and sailing routes are how the prophets travel around Israel. 
On the left hand side of the board is a list of all the kings of the Northern Kingdom and this list is also used to keep tract of what rounds in the game.  At the beginning of the game a marker starts at the first king, King Saul, and then primarily goes down one space every turn until it hits the bottom, which represents the destruction of Israel by Assyria. 
During the game evil might appear at each location and idols might also be built.  When sin increases at a location with an idol then evil will also expand to all places that are connected to that location by a road.  This is the heart of Kings of Israel.
The PrayerMate Christian prayer app for iPhone, iPad & iPod Touch has helped thousands of people be more faithful in prayer. I've been blown away by how many people have used it and got in touch to say how helpful they've found it – for something I wrote during an Easter holiday as a little side project, that ain't bad! But there are still many many people out there who I'm sure would benefit from it, who are unable to use it because they're Android users rather than Apple users.
That's why last night I launched a Kickstarter campaign to bring PrayerMate to Android. If you've not heard of Kickstarter before, it's basically a way for creative projects like this to raise a specific finance goal directly from its supporters. You can pledge anything from £2 to £350, and if we don't raise the full amount needed to complete the project, nobody has to pay a penny. Even the smallest donation would be appreciated, and would help show your support for the project, but if you pledge more then you can get access to some great rewards like an exclusive PrayerMate hoodie.
Watch the video for all the low-down of how we'll be using the funds:
Even if you're not in a position to support the campaign financially, please spread the word far and wide – tell everybody you know: your postman, your cat, your Bible study group at church. We've got 29 days left to make this thing happen – support the campaign today!